news
25.5.2020
We are launching the AMBER ordering system for 500 participants of the Festival fantazie 2020. Orders will not be confirmed (authorized) automatically, we will sort and compile them according to accommodation so as to maximize capacity. Pay for our manually authorized orders. We are very much looking forward to you!
14.5.2020
The jubilee year is directly about remembrance. We will be in the event of FF 2020 remembering the competition for the title "The Most BeautiFFul PoFFter". Images of individual years for posters, info-brochures, etc. will compete. Also watch the competition website.
13.5.2020
We present the program layout of FF 2020. The jubilee 25th year will be truly special ;-). The limitation of the number due to the epidemic forced us to reduce FF and move to the hotel Fantazie, where we will prepare 4 lecture halls, a boardroom and a video game room + an outdoor program (MoveCon and summer cinema). As a bonus, we add one movie a day to the cinema. We believe that participants will never forget the special year.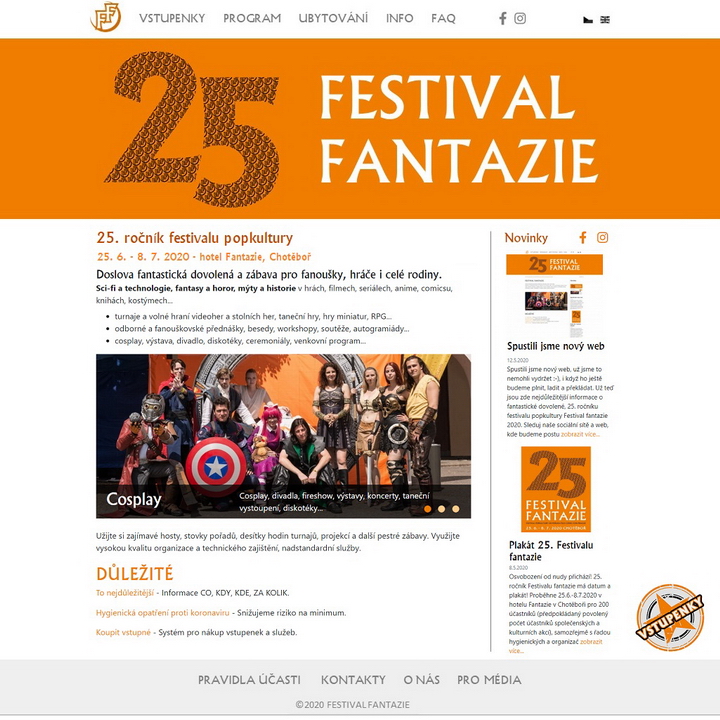 12.5.2020
We launched a new website, we couldn't wait anymore :-), even though we will still fill it, debug it and translate it. Already, here is the most important information about a fantastic holiday, the 25th annual pop culture festival Festival fantazie 2020. Follow our social networks and website, where we will gradually add new and more detailed information.
8.5.2020
Freedom from boredom is coming! The 25th year of the Festival fantazie has a date and a poster! It will take place from 25.6.-8.7.2020 in the Hotel Fantazie in Chotěboř, for 200 participants (expected allowed number of participants in social and cultural events), of course with hygienic and organizational measures.